WHAT IS PATIENT MONITORING SYSTEM
Patient monitoring system is an evaluative monitoring system. A patient monitoring system is used to monitor physiological signals. It calculates ECG, respiration, blood pressure, and body temperature, among other things. Care for the critically ill patient necessitates prompt and accurate decision making in order to administer life-saving therapy as needed. Generally, ICU requires a computer system for patient monitoring. In patient monitoring system sensors and electrodes used for receiving physiological signals human's body. Here we will see top 10 patient monitoring system.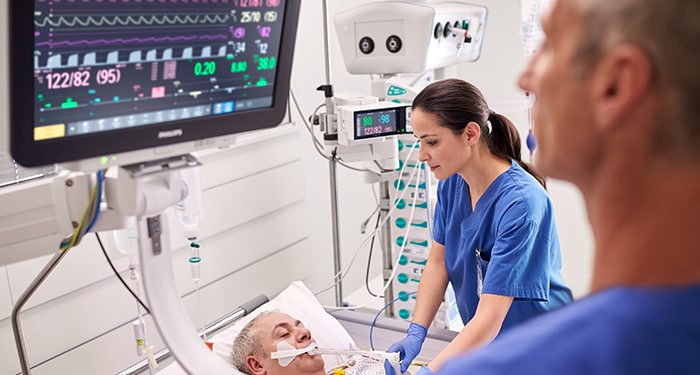 WHY PATIENT MONITORING SYSTEM IS USED
Patient with unstable physiological regulatory system. Example- patient whose respiratory system is suppressed by a drug overdose or anesthesia.
A Patient at high risk of developing a life threatening conditions. Example patient immediately after open heart surgery.
Patient with a suspected life-threatening conditions. Example indicating acute myocardial infarction.
Critical health condition like patient with multiple trauma.
During the birth or labor process, the mother and the infant are together.
WHAT ARE THE TYPES OF PATIENT MONITORING SYSTEM
A patient monitoring system is an electrocardiography ("ECG") machine that allows physicians to monitor the vital signs of the heart. we can look at the various types of patient monitoring systems that are available. there are numerous types of patient monitoring systems. Examples: wireless, portable, real-time, continuous, and so on. They are typically divided into two broad categories: bedside patient monitoring systems and remote patient monitoring systems.
Bedside Patient Monitoring Systems
Bedside patient monitoring systems and hospital patient monitoring systems are used to monitor patients within the confines of a hospital or doctor's office. The typical bedside patient monitoring system is characterised by a collection of chords, sensors, and screens that surround a patient's bed within the hospital. A well-known example is a bedside patient monitoring system, such as the ECG machine discussed previously.
Remote Patient Monitoring Systems
Patients are monitored outside of the hospital using remote patient monitoring systems rather than bedside patient monitoring systems ("remotely"). A smart watch is a remote version of the aforementioned ECG gadget that delivers data about a patient's heart activity to a doctor while the patient is shopping.
WHAT ARE THE PARAMETER OF PATIENT MONITORING SYSTEM
ECG
An electrocardiogram (ECG) is a simple test that can be used to check the rhythm and electrical activity of your heart. Sensors attached to your skin detect the electrical signals produced by your heart every time it beats.
RESPIRATION
The process of bringing oxygen into the body and expending carbon dioxide is known as respiration. Breathing is simply the movement of oxygen into the body and carbon dioxide out. The exchange of oxygen and carbon dioxide between the blood and the body's cells is also part of the respiration process.
SpO2
SpO2, also known as oxygen saturation, is a measurement of the amount of oxygen-carrying haemoglobin in the blood in comparison to the amount of haemoglobin that does not carry oxygen. The body requires a certain level of oxygen in the blood in order to function properly. In fact, extremely low SpO2 levels can cause severe symptoms. This is referred to as hypoxemia.
NIBP
Non-invasive Blood Pressure (NIBP) recording for cardiovascular research allows you to easily collect continuous blood pressure data over long sampling periods while keeping your subject comfortable. Record and track NIBP trends in response to interventions on finger arterial pressure, systolic, diastolic, mean arterial pressure, heart rate, and interbeat interval. With the height correction unit, you can automatically adjust for changes in hydrostatic pressure caused by movement (HCU).
TEMPERATUE
The average normal body temperature is thought to be 98.6°F (37°C). According to some studies, "normal" body temperature can range from 97°F (36.1°C) to 99°F (37.2°C). A temperature of more than 100.4°F (38°C) usually indicates a fever caused by an infection or illness.
WHAT ARE THE DEVICES OF PATIENT MONITORING SYSTEM
patient monitoring devices allow your patients to share vitals and environmental updates from the convenience and comfort of their own home—or even the office. Fitbits, wearable heart monitors, Bluetooth-enabled scales, glucose monitors, skin patches, shoes, belts, or maternity care trackers all acquire, transmit, process, and store patient data so clinicians can access it when they need it.
Blood pressure monitor
This simple inflatable cuff inflates, squeezing your arm, and then automatically calculates your patient's heart rate and blood flow by measuring changes in artery motion as it deflates. Some blood pressure monitors collect multiple readings to calculate daily averages.
Heart rate monitors
These wearables measure how many beats per minute a patient's heart makes, allowing your team to advise them on when they should exercise more or less vigorously—and take medication more or less frequently. Portable mobile devices automatically record and transmit a patient's heartbeat data while running errands, exercising, going through stressful situations, and even sleeping, allowing clinicians to detect both symptomatic and asymptomatic arrhythmias, as well as atrial fibrillation after cardiac ablation.
Pediatric at-home monitoring
In the past, these required frequent visits to multiple specialist practices and emergency care facilities, which disrupted childhoods in many ways. patient monitoring devices allow family priorities and goals to take center stage. Every time a child begins a new protocol or prescription, parents can track positive and negative effects—and report the information to their clinicians straightaway.
Smart scale
Gaining just 2 or 3 pounds may indicate increased water retention in patients with congestive heart failure. When clinicians receive this information on their remote patient monitoring device, they can act quickly to prescribe a diuretic, increase a current medication dosage, or schedule a visit with the patient.
HOW TO CHOOSE BEST PATIENT MONITOR SYSTEM
The selection of medical monitoring devices and accessories is expanding. This has become a benefit to medical professionals and facilities, as the growing number of options means that every medical need can be met. This, however, means that selecting the right patient monitors and their accessories has become more difficult than ever.
The healthcare facility's size
Before deciding on the type of patient monitors to purchase, it is critical to consider the size of your clinic or healthcare facility.
The type of medical care
Patient monitoring devices are classified into several types based on the needs of the patient. It is best to start with the type of medical practise that you are working in. A medical monitoring system may include features and functions for emergency situations. In this case, the device may be more useful to an urgent care center.
Your purchase's price
Despite the fact that you only want to provide the best medical care for your patients through your healthcare facility, the cost of your investments is often a major consideration for any business. Healthcare professionals and entrepreneurs will want to spend as little money as possible on the right equipment.
TOP 5 PATIENT MONITORING SYSTEM
1.
Philips Goldway GS20 Patient Cardiac Monitor 10 inch Monitor with 1 year warranty
1.) Advanced functionalities
The G20 provides real-time data on cardiac and respiratory conditions in order to fit different clinical settings. As well as specific monitoring parameters such as Philips ST / AR 3-and5-lead ECG/ respiration, NBP, 2 temperatures, and Philips SpO2/PR, ST and arrhythmia monitoring, it also offers options for 2-channel intrusive blood pressure and Microstream etCO2 monitoring.
2.) Ease of use
The monitor has a 12.1 "display with flexible display modes such as large number display, minitrend, OxyCRG, and the height adjustment function of the auto waveform channel to fit different clinical settings. For maximum ease of use, intuitive menus, fixed key access, bright color screen, and optional touchscreen have all been designed.
3.) Networking and data management
The G40E comes standard with LAN networking capabilities for facilities that seek to create a bi-directional communication network with a central monitoring system from Philips Efficia CMS200 or require data output in HL7 format.
4.) Compact and cost-effective
The G40E patient monitor, designed in compliance with Philips ' exacting quality standards, offers market-proven critical parameters in a lightweight, cost-effective display to produce precise measurement results on your tight budget. The role of an alarm clock helps to reduce alarm fatigue in order to create a quiet care environment.
5.) Works with Efficia consumables
The G40E patient monitor is designed to be compatible with consumables from Philips Efficia, which are also used on patient monitors from the Philips Efficia CM series, to reduce your total cost of ownership by sharing consumables from Philips across various care settings.
2.
Comen STAR8000E Cardiac patient monitor, 5 parameter European CE approved Monitor
Comen Star8000E patient monitor comes with six Parameters: ECG/HR, RESP, SpO2, PR, NIBP, TEMP. Comen's CardioTec TM ECG Monitoring Technology allows 13 kinds of arrhythmia analysis, ST segment analysis, and improved accuracy of ECG signal measurement.Comen's Diox TM Digital SpO2 Technology enables accurate measurement under weak perfusion and finger trembling situation and AcuTec TM Blood Measuring Technology and the study of hemodynamic features of high-risk patients to guarantee precise BP measurement.
For general ward, IBP, AG, BIS and C.O. monitoring are barely used. STAR8000E only reserves six parameters which optimizes its performance, lowers the cost and fully meets basic monitoring needs.
Important features of Star 8000 patient monitor:-
High resolution 12.1" Colour Display with Touch and knob operation.
ECG, Spo2, Respiratory, Dual Temp, NIBP
Arrhythmia & ST analysis
Battery backup Up to 3- 4 hours
USB interface for Data saving and up gradation
Facility to display OXY CRG, ST Analysis, ARR analysis, Drug doses calculation.
96 Hrs. Graphical & tabular trends.
European CE approved from European Notified Body.
3.
Contec CMS8000 Patient Monitor, USFDA Approved Cardiac Monitor, 12.1 inch Multipara Monitor
The monitor has very useful features that can be used for ICU clinical monitoring with adult, pediatric and neonate Patients .  Users may select different parameter configuration according to different requirements.
The monitor, power supplied by 100-240V ,50/60Hz, having 12.1" color TFT/ LCD Display with real-time date and waveform. It can simultaneously display upto eight-channel waveform and full monitoring parameters equipped with an optional 48mm thermal recorder. The monitor can be connected to the central monitoring system via wire or wireless network to form a network monitoring system.
This Patient Monitor can monitor and display ECG, HR,  SpO2, PR, RESP, NIBP and dual-channel TEMP.  It integrates parameter measurement module, display and recorder in one device to form a compact and portable equipment. Its replaceable internal battery brings lot of convenient for patient moving. 
Major Specifications of  CMS 8000 Patient Monitor : 
12.1" Colour TFT/ LCD, multi-language interface. 
Parameters :  ECG, SPO2, NIBP, RESP, 2-TEMP, PR
Optional: 2-IBP, ETCO2, And thermal printer
Suitable for adult, pediatric and neonatal patient
4.
Comen C50 Cardiac patient monitor, 7 parameter, US FDA approved, touch screen
Comen C50 is a US FDA and European CE Approved 7 parameter touch screen patient monitor.
Key features of Comen C50 monitor:-
7 parameter patient Monitor with 10.4-inch TFT Colour Screen
Touch Screen and Knob both.
Standard 7 Parameters : ECG/HR, SpO2, PR, NIBP, RESP, Dual TEMP, PR(pulse rate).
Optional Up gradations : Dual IBP, Etco2, Cardiac Output, Recorder.
7-Lead ECG or 12-lead ECG analysis
Arrhythmia and S-T segment analysis, drug dose calculation
Pacemaker detection, Anti- defibrillate.
With functions like ARR analysis, RESP Apnea Alarm, OxyCRG.
Waterproof design, good performance in various environment
Interfaces: SD card, USB, Network, VGA, Nurse calling
4000mAh, Li-ion batteries, above 4 hours working time.
5.
Unicare F5 Multipara Patient Monitor 12inch display
Description for Unicare F5 Multi Parameter Patient Monitor
Unicare F5 Multi-Parameter Patient Monitor  Specifications :-
12.1 inch high-brightness TFT LED
Parameter : ECG, Spo2, NIBP, Temperature, Respiration 
Support display 8 waveforms
Support 7 channel ECG waveform display simultaneously 
Optional touch screen
List of Supplies with Cardiac Multipara Monitor:-
1. ECG Cable  1 no. 
2. Spo2 Sensor 1 no. 
3. NIBP Cuff ( Adult) with Tube 1 no. 
4. Temperature Sensor 1 no. 
5. Power Cable 1 no. 
TOP 10 PATIENT MONITORING SYSTEM & PRICE
Now we will see top 10 patient monitoring system list.
| | | |
| --- | --- | --- |
| S.N. | PRODUCT NAME | PRICE |
| 1. | Comen STAR8000E Cardiac patient monitor, 5 parameter European CE approved Monitor | ₹59,000 |
| 2. | Contec CMS8000 Patient Monitor, USFDA Approved Cardiac Monitor, 12.1 inch Multipara Monitor | ₹33,500 |
| 3. | Bistos BT 350 CTG Machine, LCD Fetal Monitor | ₹61,500 |
| 4. | Medsun MD9009B, Vital Signs Monitor, 12 inch Cardiac Patient Monitor, Five para Patient monitor | ₹34,500 |
| 5. | Masimo Pulse Oximeter, Rad97 for NICU and Other hospital applications | ₹78,000 |
| 6. | Schiller Medical Tabletop Pluse Oximeter , Oxywave | ₹52,000 |
| 7. | Comen C50 Cardiac patient monitor, 7 parameter, US FDA approved, touch screen | ₹85,000 |
| 8. | Mindray Umac10 Patient Multipara Monitor , 10.4 inch | ₹95,000 |
| 9. | Contec CMS800G Baby Heart Fetal Monitor | ₹59,500 |
| 10. | Comen Star 5000E CTG Machine | ₹68,000 |
FREQUENTLY ASKED QUESTIONS(FAQs)
What is the main objective of patient monitoring system?
The aim of patient monitoring is to give warning of early or dangerous deterioration and to achieve this by obtaining an optimal compromise involving many design factors, clinical, engineering and economic.
Why is it important to monitor a patient?
It increases the patient's risk of needing to stay longer in hospital, not recovering fully or dying. Monitoring patients (checking them and their health) regularly while they are in hospital and taking action if they show signs of becoming worse can help avoid serious problems.
Why do nurses monitor patients?
Nurses continually observe and assess a patient's physical appearance and perform clinical assessments. They monitor the patient's physical and emotional response to treatment and identify patterns and trends.
How much is a patient monitor?
A 3 parameter patient monitor generally starts from Rs 15,000 and can go up to Rs 30,000. While a multiparameter patient monitor which generally measure 5 parameters or more can start from Rs 30,000 and can go up to Rs 2 lakhs depending on the brand and configuration.
How do you calculate ECG?
The ECG is measured by placing a series of electrodes on the patient's skin – so it is known as the 'surface' ECG. The wave of electrical depolarisation spreads from the atria down though the IVS to the ventricles.
top 10 monitoring system in 2021?
Hospitals store is selling patient monitoring systems to from last 6 years and our team has extensive 18 years experience in Industry. Here is list of reputed patient monitor brands and products in Indian market.
FINAL THOUGHTS
The Patient Monitoring System (PMS) is a very critical monitoring systems, it is used for monitoring physiological signals including Electrocardiograph (ECG), Respiration , Invasive and Non-Invasive Blood Pressure, Oxygen Saturation in Human Blood (SpO2), Body Temperature. in this article we can see top 10 patient monitoring system.